---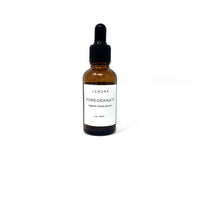 Organic Pomegranate Facial Serum
L E N O R A
DESCRIPTION:
A minimalistic approach to organic skincare using only five certified organic ingredients. Beautifully blended to nourish, moisturize, rejuvenate, anti-age, and balance skin. Full of antioxidants, all skin types can benefit from these rich and luxurious plant + fruit oils. 


The organic oil of rosehip is wonderful for all skin types. This miraculous oil is is an anti-inflammatory anti-oxidant, in other words, it calms and hydrates dry and sensitive skin. It is also a great source of essential fatty acids, helping to repair damaged skin. Rosehip oil is well known for its anti-aging benefits - helping to protect skin from the sun. 

Organic jojoba oil is actually a liquid plant wax, and is wonderful for moisturizing, protecting, and cleansing the skin. It soothes fine lines and wrinkles + treats acne and psoriasis. 
The organic + delicious fruit oil of pomegranate seed is cold pressed from the seeds of the pomegranate fruit. It's very nutritious and improves collagen production. This fruit oil fights against free radicals, helping to reverse skin damage. It can also help to calm irritation associated with eczema, psoriasis with its anti-inflammatory properties. 

The organic plant oils of wild carrot seed + lavender help to regerate skin cells and fight the appearance of lines and wrinkles. Carrot seed oil contains high amounts of beta-carotene and vitamins A & C, and is known to be one of the best oils for mature skin. Lavender oil kills bacteria in the skin associated with breakouts, and can counteract negative effects of pollutants. 
The molecules in facial serums are smaller than those in moisturizers, and they penetrate deeper into the skin - providing beautiful and glowing results.
1 or 2 oz glass bottle / vegan / use within six months for maximum freshness

DIRECTIONS:
Best results on cleansed, makeup-free skin. Apply 4-6 drops of serum to moistened skin in the p.m. Can be used in the morning as a moisturizer under foundation. 

INGREDIENTS:
Rosehip fruit oil,* Jojoba oil,* Pomegranate seed oil,* Wild carrot seed oil,* Lavender oil,* good vibes
Indicates certified organic*
Ingredients are listed on every label for anyone with allergies. 

** As always, please consult your doctor if you are pregnant or have any medical issues before using any LENORA product. LENORA has not been approved by the FDA.